For the second week in a row, Matt Kenseth and Kyle Busch finished 1-2.
For the second week in a row, Jimmie Johnson got a top 5.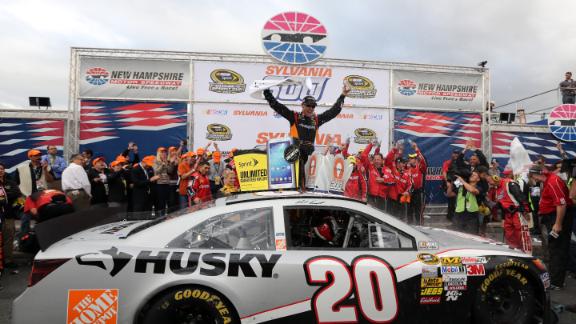 These are the only drivers to start this year's Chase with two straight top-5s.
And just like that, the 13-driver Chase has been cut down to a 3-man battle.
Everybody else has some serious catching up to do. The latest numbers from our
Chase prediction model
give our newest expectations:
Matt Kenseth is again the big winner, with his title chances now sitting at 41%. His increased lead in the points standings gives him a bigger cushion in the model, which will come in handy in case he falters in an upcoming race.
Johnson, with two consecutive top-5 finishes, has kept his title chances steady at 27%. He has been hovering in the 25-27% range since the Chase began. Even without winning races, he could still win a title on the strength of numerous top 5s.
Kyle Busch, with another second-place finish, crept forward to 22%, up from 20% last week.
Carl Edwards and Kevin Harvick were the big losers in the wake of Kenseth's 16% gain (from 25% to 41%). Outside our top 3, Edwards and Harvick were the only two drivers last week with chances above 5%, but now the model shows them each at 3%.
It has very quickly become bad for the rest of the field: the ten drivers in the back have a combined title chance of only 10%. Think about that: we are only two races in, but there is a 90% chance of the title going to one of our top 3 drivers. Put another way: our three top drivers each have an average 30% chance of winning the title, while the ten others only have a miniscule 1% average chance.
If anybody were going to break away from the crowd, it's not surprising these would be the three to do it. Before we started the Chase,
our prediction model
had these same three drivers up top. No matter what, everybody else needs to step up soon, before this thing is over. For many drivers, it may already be too late.
Finally, in predicting how many points the champion will have, we are now looking at a 2380-2400 range, in line with our last two champions (2403 and 2400).
Consider using 2400 as a round number for what any driver will need to be champion. Take the example of 13th place Kasey Kahne, with 2040 points right now. For him to win the title, he'd need 360 points in the final 8 races, an average of 45 points per race. Since the winner of a race gets 47 points and second place gets 42, Kahne would need to finish top-2 in the final 8 races to be a threat to win. That would take a miracle, which is why the model puts Kahne's title chances effectively at 0 percent (0.042% to be exact). He should start preparing for next year.
Check in next week, after Dover, for the latest analysis.